OUTDOOR SUPPORT AT HOFSNÄS
Hofsnäs is an amazing area with natural, cultural, and relaxing activities. There you find the nature reserve of Torpa with the outer part of the lake Åsunden on one side and the lake of Torpa on the other side. In the reserve are several hiking trails with beautiful stops and barbeque sites. Hofsnäs mansion with its café and bistro lies in the middle of the area. A few kilometres away lies the stone castle of Torpa, built in the 16th century, with its castle café and restaurant.
In collaboration with Ida and Danne at Hofsnäs Mansion, we want to inspire people and make it easier for visitors to experience nature and activities on site.
We are leasing canoes, kayaks, SUPs, and bicycles for grown-ups and children alike. There are bicycle trailers and children's seats for the smaller children who cannot yet ride a bicycle of their own.
In addition to the leasing, we offer guided tours and outdoor experiences in the area. If you want to try out something new or want to have an experience together with the family or a group of friends you can get a package deal with outdoor cooking, overnight stay and more.
Follow our social media accounts for new activities and offers.
Rental at Hofsnäs will open May 18th
18/5 – 21/5
We are open the whole weekend around Ascension Day, Thursday – Sunday
22/5 – 24/6
Open Saturdays and Sundays
25/6 – 3/9
Wednesday – Sunday every week
3/9 – ?
Saturdays and Sundays
More specific hours will come soon, but we are happy to take prebookings
Digital booking will be available soon, but until then we take bookings by e-mail and telephone.
New price list will come soon
Kayak
Perfect for someone who has never sat in a kayak before or for someone who has, but wants to refresh your knowledge of the basics
Dates and prices will be available soon
SUP – Stand up paddleboard
A 2-hour course of the basics, first on land and then on the water together. We will slowly go from sitting to standing on the board and then for a bit of a paddle along the shoreline.
Dates and prices will be available soon
Canoe – (Canadian)
Two persons needed per canoe
Canoeing is perfect for a family outing. Suitable for all ages and with room for a lot of goods. The canoe is most suited for rivers and inlets but is fine on lakes as long as it's not too windy. This is a 2-hour course for you to get to know and feel comfortable with the canoe. You'll get to learn how to maneuver it and about safety on water.
Dates and prices will be available soon
Paddling in the moonlight
Come on an evening adventure under the full moon in kayak or canoe. We will start off in the outer part of lake Åsunden by the boathouse at Hofsnäs and paddle around the isthmus, under the bridge of Torpa and in to lake Torpasjön where we'll get to experience the sunset. We'll continue past Torpa and down to the beach of Hofsnäs where we go ashore. We will light a fire, make coffee and have something nice to eat, and cozy up by the fire as long as we please. Hopefully while the full moon rises into the sky for us to admire.
Dates:
4 June at 20.30
3 July at 20.30
1 August at 20.00 Supermoon – when the moon is closest to the earth in its orbit
31 August at 18.30 Supermoon
Price SEK 650/person for kayak, SEK 650/canoe. Included is life-vests, guide, fika, and good company
Registration: e-mail uthyrning@outdoorsupport.se  , telephone 0793-133044 ,  0702-775364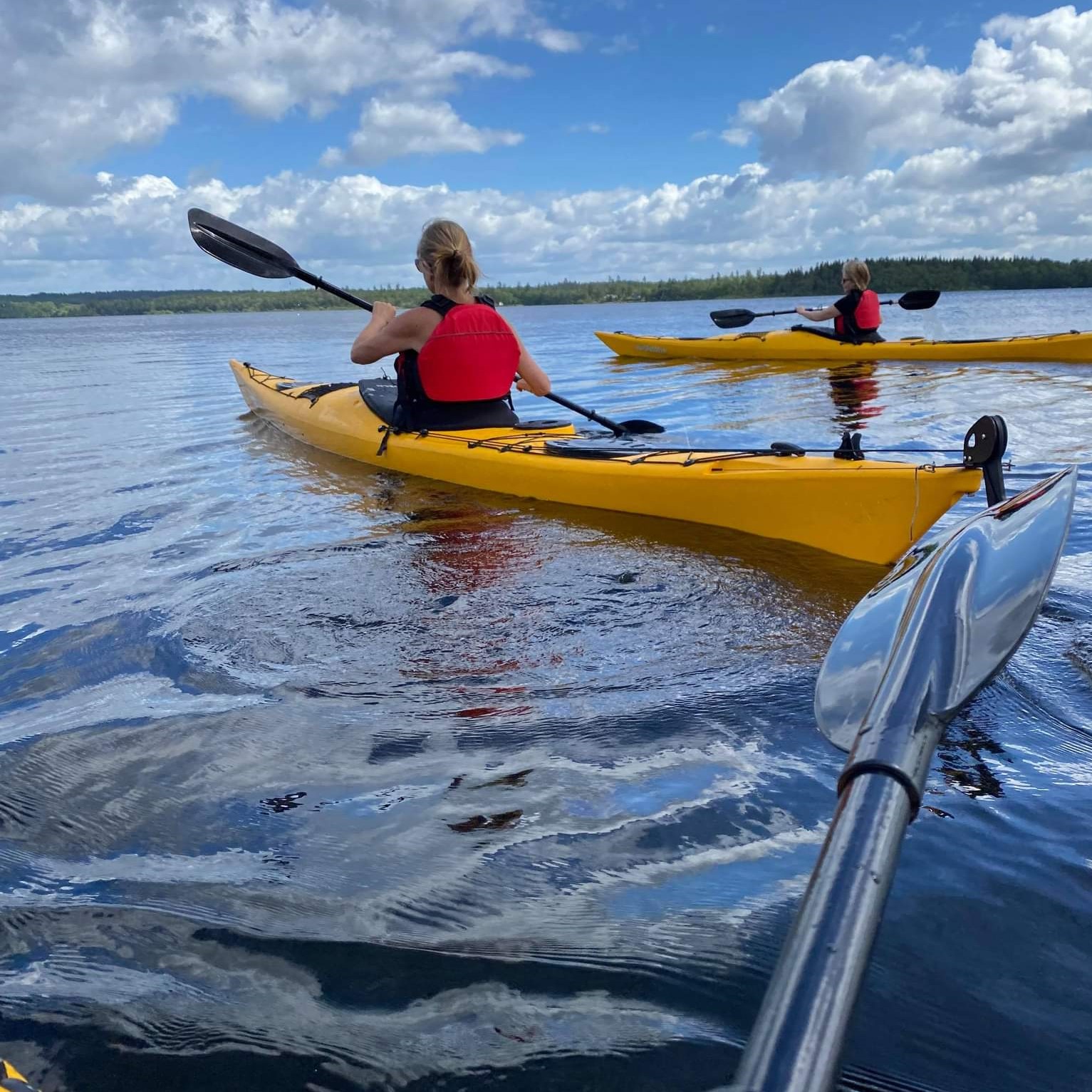 A whole day in kayak, Yttre Åsunden – Fästeredssund – Torpasjön
This is a guided tour in kayak with start at Hofsnäs. The tour is suitable for beginners and intermediate paddlers. It will take us out on a days trip for 6 hours, including 4 hours of paddling, lunch and fika.
Price: SEK 1100
We start at 10:00 by the boathouse at Hofsnäs in Yttre Åsunden with a bit of instructions of how to paddle a sea kayak.This is so that everyone can feel comfortable and safe on the water.
We begin our tour through Yttre Åsunden and continue in through Fästeredssund until we reach lake Åsunden. There we will turn around and go back to Yttre Åsunden where we go around some of the islands. We paddle back via lake Torpasjön where we can see Torpa at a distance. During the tour we will also recount the interesting history of the area. The lunch, that we cook together, and a fika is enjoyed somewhere along the way at some good spots.
We will be back at Hofsnäs at the side of Torpasjön at 16:00
The tour begins and ends at Hofsnäs and there is ample parking space at the site.
Included in the tour:
One-person sea kayak
Life-vest
Paddle
Spray deck
Instructor/guide
Lunch and fika (coffee and snacks)
Dates will be available soon
If you have questions, feel free to contact us through e-mail or telephone
 E-mail: info@outdoorsupport.se  telephone: 0702-775364
Kayak tours with Hallins Aktiviteter
We offer guided kayaking tours during the summer of 2023 for both beginners somewhat intermediate paddlers at some of our best paddling areas. For 2-4 hours you can join a cheerful and experienced guide who wants everyone to feel safe on the water. Before getting out on the water, you will cover the basics of paddling a kayak and get help with adjusting it for you to sit well during the tour. Always included are a one-man sea kayak, life vest, paddle, spray deck, and a water tight bag to put valuables in.
Dates will be available soon