5 days cycling on the beautiful trail of Ätradalsleden
Open landscapes, large forests, and quiet lakes; the trail Ätradalsleden goes all the way between Falköping and Falkenberg and is Sweden's fifth national cycling trail. The whole trail is 200 km long and about half of it is car-free on the old railway embankment. The rest is small country roads snaking its way through a beautiful and varied landscape.
We offer a package with 5 days of cycling that starts in Falköping and ends in Falkenberg. This includes over-night stays in hotels and B&Bs, breakfast, dinner, and luggage transportation. The stretches are between 38 and 48 km.
Choose to arrive to Falköping a day early if you want to experience small and winding roads, cozy cafes and restaurants  with local produce, picturesque boutiques, the plateau mountains, and an exciting history. As an add-on, you can choose to stay over-night at the old health resort of Mösseberg, a spa hotel in a classic setting. It is easily accessible by train, buss, or car.
When you have made the whole journey along the river Ätran where it meets the ocean, you can choose to add an over-night stay in Falkenberg. There are loads of adventures waiting for you here. Let the city inspire you and go find out what Falkenberg has to offer. You can experience everything between salty beaches to fine dining. There are award-winning restaurants and cafes and small farm shops. Indulge in a night at the Grand Hotel before leaving for home.
Available as add-on.
Price per person in double room SEK 8900, add-on for single room SEK 1400.
Children 6-13 years SEK 4500
In Falkenberg you can continue on the national cycling trail of Kattegattleden. It can take you south to Helsingborg, or north to Gothenburg.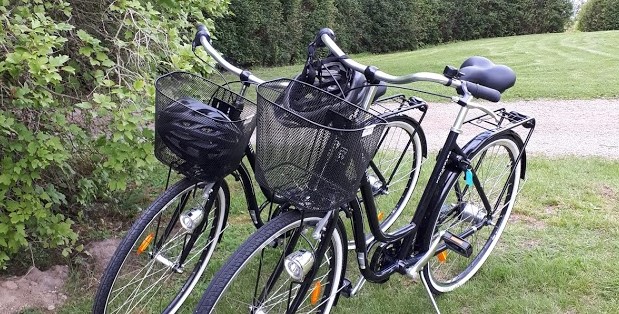 Day 1 Falköping – Ulricehamn    48 km
This stretch is close to car-free and moves through a beautiful cultural and natural landscape on an old railway embankment. There are several points of interest along the way.
Outdoor Support will meet up with you in Falköping where you will be provided with maps, descriptive roadmaps and possible rental bikes. You will begin your cycling adventure on the embankment southward towards Ulricehamn. We suggest a lunch stop at Forntidsbyn (the prehistoric village) in Åsarp and don't miss a stop at the old mill Basta Kvarn for a taste of their home-made ice cream. Then continue on towards Ulricehamn. Accommodations for the night is booked for you at Hotell Nyboholm and dinner is served at Restaurang Bryggan right down at the shore of lake Åsunden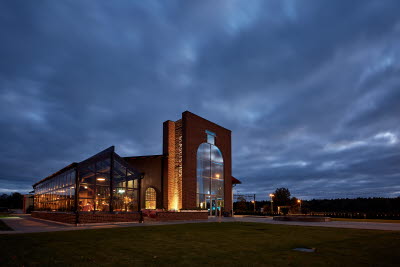 Day 2   Ulricehamn – Tranemo    36 km
Following a nice breakfast, you will continue south on the paved embankment alongside lake Åsunden towards Tranemo. The stretch of the day will take you through a varied landscape of lakes, green hills and forests that go on for miles (the Swedish mile, of course). Along the way you can find historic sites, museums, restaurants and beautiful resting places. We recommend Café Sjöparken in Vegby and Glasets hus (The house of glass) in Limmared. You will spend the night at Fridas Hotell och Bistro in Tranemo, where you will also have dinner.
Day 3  Tranemo – Mårdaklev     48 km
You continue down the embankment to Ambjörnarp. The trail south of Ambjörnarp is mostly on idyllic winding country roads with very little traffic, mostly on pavement but with a few short parts on gravel. Feel free to stop for a Swedish fika on Café Parksäter in Håcksvik, 27 km from Tranemo. When you get to Klev you will make a detour of 6 km towards Mårdaklev. It's definitely worth the extra kilometres. You will stay at Hemma på Klev (Home on Klev), a B&B with origins from the 1700s and they will serve dinner made with locally produced and fresh produce, made from scratch.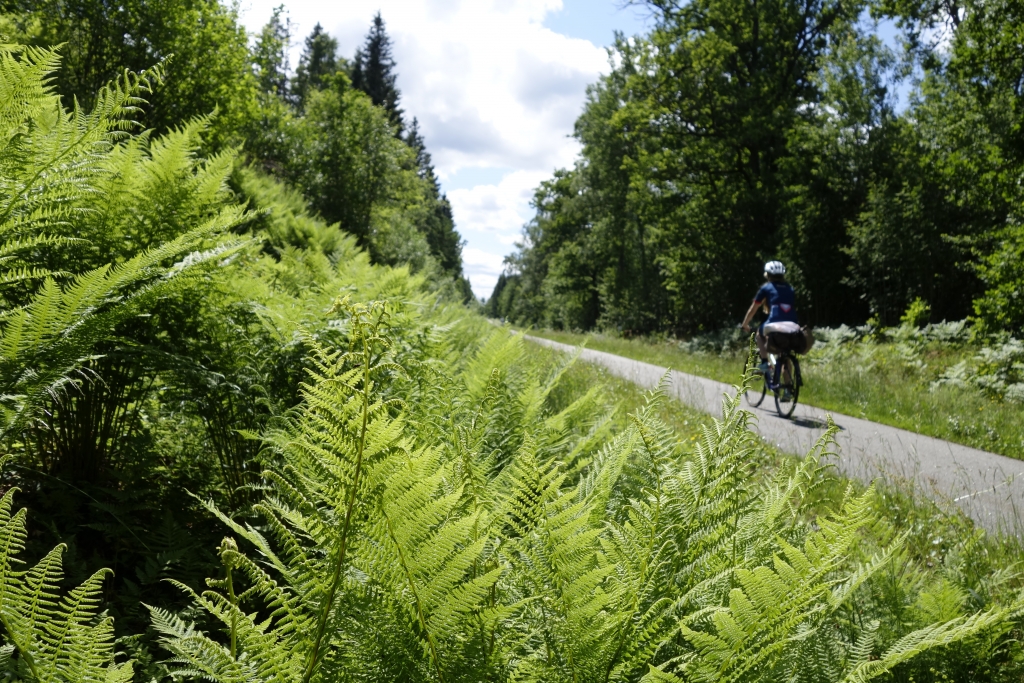 Day 4  Mårdaklev – Gällared    43 km
After a big Swedish breakfast, you'll return the 6 km you went yesterday, back to the trail towards Kalv. Before long you will leave the geographical area of Sjuhärad and continue down towards the province of Halland and you will do so on small country roads. Right when you cross the regional border you will find the small village of Fegen. There you will have a fantastic view over the lake Fegensjön with its varying fauna. This is home and breeding ground for both the black-throated diver and the osprey. About 17 km after passing the village of Fegen you will take a small detour to another village called Gällared, where Gällared B&B is situated. It's a small and homely stay for small companies. Dinner and breakfast are both served at the B&B.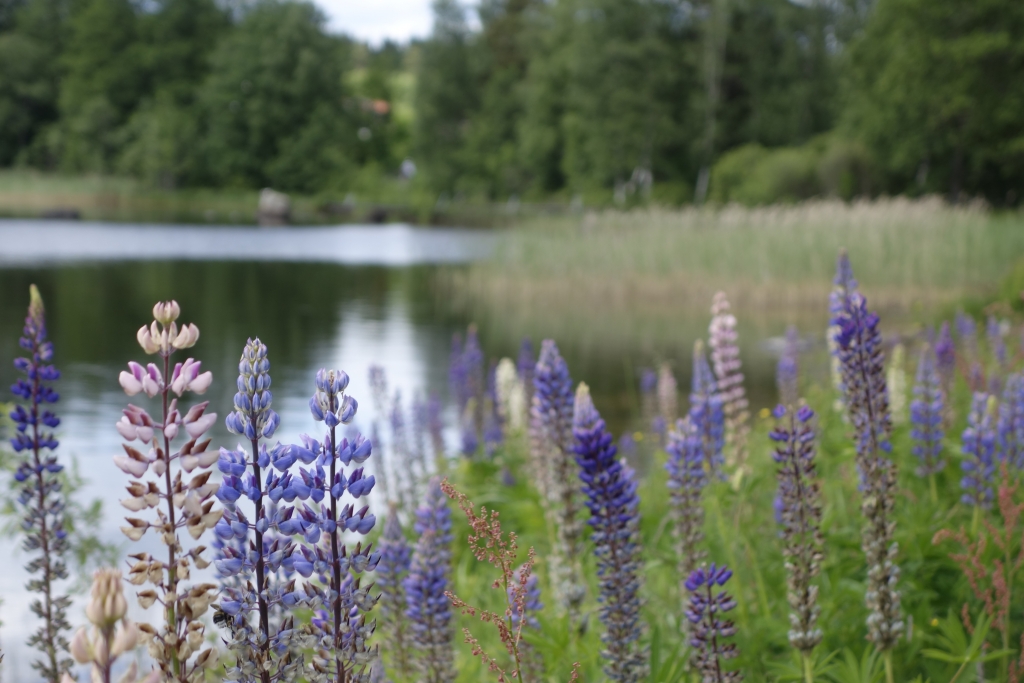 Day 5   Gällared – Falkenberg       41 km
The last day of your trip begins with breakfast in Gunnel's kitchen. Go back the way you came and find the trail and the bridge over river Ätran. The road between Gällared and Askome has been dubbed "the most beautiful road in Halland" and here you will cycle alongside river Ätran on the small country road. About 20 km from Gällared (just outside Vessigebro) you will find the restaurant of Vinberg's golf club, a good place to fill up on energy. You can find both lunch and fika here. After a good pit stop, you can continue on through the countryside to the city of Falkenberg.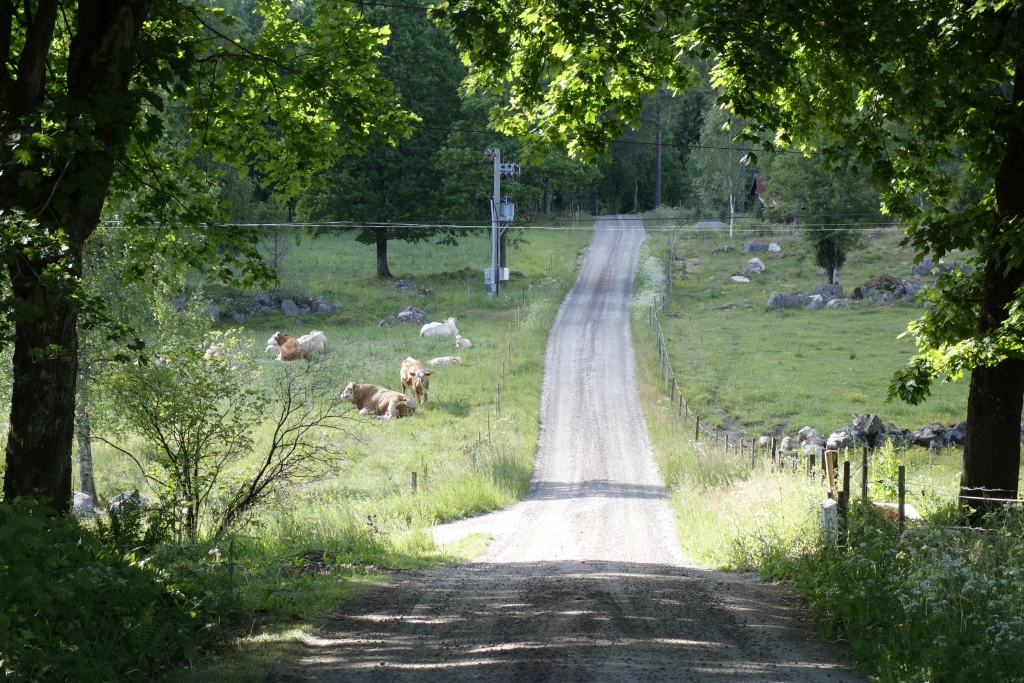 Included in the package:
4 over-night stays at hotels and Bed & Breakfast
4 dinners
4 Breakfasts
Luggage transportation
Maps
Descriptive road maps
On-call service
Add-ons
Extra night stay in Falköping before the trip, to begin the trip all rested
Over-night stay in Falkenberg after the trip
Rental bicycle, citybike 7 gears
Rental bicycle, electric bike 7 gears
Add-on for single room
We can accommodate up to 6 persons per departure.
If you have other wishes e.g. booking for a bigger group, make the trip on fewer days or longer stretches feel free to contact us and we will try to accommodate your wishes to the best of our abilities. 
 info@outdoorsupport.se , +46 702-775364