Cycling-hiking-canoeing – a unique package experience
This package combines cycling, hiking, and canoeing, all in one trip. Over-night stays are spent in tent or lean-to shelter. You will prepare your own food on storm cooker or over open fire. The food and appliances will be delivered to the campsites for you every day. We have tents, sleeping bags and carry mats for leasing if you need it.
Cycling-hiking-canoeing is suited both for the beginner, not having slept or cooked outdoors before, as for the more experienced outdoorsman. Outdoor Support will do the planning and food purchases as well as provide the necessary equipment needed for sleep accommodations and cooking outdoors. If you want to feel some extra security, you can choose to have a guide with you for part of, or the whole trip.
The majority of your luggage will be transported to and from the campsites, so you will only have to carry what you need for the day. If you want to, we can also set the tent up for you at the campsite.
Jälmåleden is a 35-kilometre-long hiking trail in beautiful surroundings in Tranemo municipal. This is where you will combine hiking and canoeing along the river Jälmån. There are 6 campsites with lean-tos, barbecue sites and tent spots along the river and trail. You will stay overnight at three of them. After cycling and a short hike day 1, you will get to paddle along the river day 2. Day 3 is hiking back along the trail and day 4 you take the bicycles back to the starting point. Along the trail there are several sites for sightseeing and interesting things to experience, such as a grave site from the Viking era and ruins from the industrial age of the 1800s.
Start/finish at Hofsnäs, 4 days
All-inclusive price for 2 persons SEK 8900
Starting days June 23, July 11, 21, August 8, 16, 25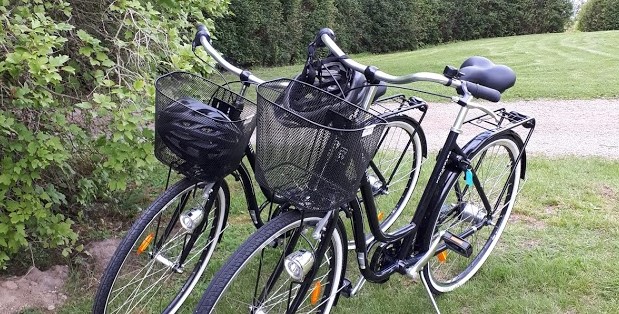 Day 1
cycling Hofsnäs – Månstad – Hulared – Dalstorp 18 km + hiking on the trail 8 km
You will start with your bicycles at Hofsnäs and ride on beautiful country roads to Dalstorp. There we recommend a hike at the trail around the lake Dalstorpasjön, approximately 8 km long. Then you can ride your bikes about 2 km to Nyfors, where you will rent the canoes in the morning. You will stay at the campsite just north of Nyfors where there is a lean-to, barbecue site and place for a tent.
Day 2
Canoeing Nyfors – Ryfors 10 km
Canoeing on the river Jälmån. The trip down the river is varying but no rapids or need to lift the canoes. The river is between 3 and 10 metres wide and runs through the lake Nygårdssjön along Nittorp. Overnight stay at the campsite a bit north of Ryfors.
Day 3
Hiking Jälmåleden Ryfors – Nyfors 10 km
The canoes are left at a place according to agreement and you start your hike northbound on the trail. You can choose to hike all the way to Dalstorp or to take your bikes from Nyfors to Dalstorp. You can also choose to camp the night at the same site as the first night or go to the campsite by the lake Dalstorpasjön.
Day 4
Cycling Dalstorp – Hulared – Månstad – Hofsnäs 18 km
Time to get up on your bikes again and head back to Hofsnäs where you started your trip. We recommend lunching in the Hofsnäs mansion when you get back.
Included in the package:
Luggage transportation
Maps and written instructions
Lunch and fika* day 1
A box with dinner ingredients for each day, breakfast and lunch for the trip the coming day. Storm cooker, gas, mugs, utensils, knife, and things for washing up. A new box will be left at the campsite each day along with your luggage.
Renting and transportation of canoes
Renting and transportation of bicycles
Add-ons:
Tent 2 nights SEK 400/ 3 nights SEK 600
Sleeping bags and carry mats (2 persons) 2 nights SEK 500/ 3 nights SEK 750
Guide SEK 5000/day
*Fika is a Swedish phenomenon meaning coffee/tea and something sweet if used as a noun, or as a verb it can also mean taking a coffee break.